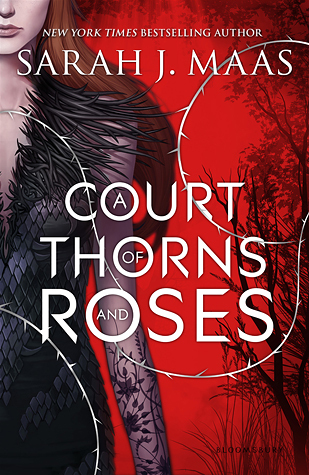 Synopsis:
When nineteen-year-old huntress Feyre kills a wolf in the woods, a beast-like creature arrives to demand retribution for it. Dragged to a treacherous magical land she only knows about from legends, Feyre discovers that her captor is not an animal, but Tamlin—one of the lethal, immortal faeries who once ruled their world.
As she dwells on his estate, her feelings for Tamlin transform from icy hostility into a fiery passion that burns through every lie and warning she's been told about the beautiful, dangerous world of the Fae. But an ancient, wicked shadow grows over the faerie lands, and Feyre must find a way to stop it . . . or doom Tamlin—and his world—forever.
...........
My rating:
2.5 of 5 stars
I feel bad for rating this book like that. I really wanted to love it, trust me – especially because I read some interviews Sarah J. Maas gave, and she seemed trully proud and happy for her book; in other words, it seemed like she put a lot of effort in it, and with it, parts of herself, and I like when authors do that.
First of all, I must say that I love the
Beauty and the Beast
tale. There's something so compelling about it – I can't grab hold of what it is, but I love it. I particularly
love
Disney's version of it, and this retelling fell short in comparison with that one.
But what didn't make me fall completely for it?
1.
Tamlin is not such a beast.
As this is a
Beauty and the Beast
retelling, there obviously needs to be a "beauty" and a "beast". The "beauty" was Feyre, a 19-year-old huntress that is "held captive" at Tamlin's castle after killing a fairy disguised as a wolf. That mentioned Tamlin is the "beast" of the story, but he's no beast! He's incredibly handsome, and he's even courteous to her. This is not bad, but since he's supposed to be a beast, I expected a more... beastly behaviour from his part.
And here's where I compare Disney's BatB with Maas' ACOTAR...
In Disney's version, Beast deserved his name. He was an incredible asshole at the beginning of the movie. He treated Beauty like garbage, and he did the same to everyone else that got near him. Plus, his appearance was a good add to his beastly nature.
2.
I didn't quite love Tamlin and Feyre's relationship.
The synopsis promises us that Feyre's feelings turn
slowly
from hatred to fierce passion. Well, I didn't feel that change to be so gradual. Maas takes time in developing their relationship, but it never felt to me as if Feyre hated Tamlin.
Again, Disney beats this.
At the beginning of the movie, Beauty could not even look him at the eyes. She couldn't stop crying and she suffered a lot. She was in a cell, she had to eat whenever he told her so, and she didn't have such liberties as pretty dresses or wandering the city as she had in ACOTAR.
I know it's cliched and it was obvious that at some point, she was going to fall fo him, but it was a long time until their relationship started to warm... and I liked it even more because appearances didn't matter. I mean, look at him, please:
If you see that and consider his personality too, you wouldn't think that cold hatred would turn into this:
3.
The curse.



This is not the book's fault. This is my fault for keep on comparing Disney's BatB with this. I won't tell you more because spoilers, but keep that in mind.



...



Given all I've said, you could think this was a bad book, but it wasn't. I enjoyed it and it

was

a good book. Here are some things I loved:



Setting, world-building, plot.



There's something you need to know about me: I don't like fantasy. Yes, that's what I read the most, but it's not what I

crave

for, yet Maas is like a queen when it comes to fantasy. She has such an ability to create unique worlds and such great concepts. No one can top her on that.



Writing.



Oh. My. God. She has improved her writing. It's so beautiful and vivid. The descriptions were swoon-worthy and I loved every word in the book. If I didn't read because I was intrigued, I did it for the writing. Totally marvelous. For this factor alone, I would give the book 5 stars.



The new adult-ish feel.



Please, I know you agree with me on this. As this is not YA, she could take more liberties when it came to writing sexy times, which, if you ask me, were hot. I hope she keeps on writing NA because 1) that genre is plagued with many offensive and crappy titles, and 2) because she writes so good and I want less censoring, if you know what I mean.



Feyre.



She's a great heroine, no Mary Sue. She's kick-ass, fierce, strong-willed and brave. I could connect with her as soon as the book started, and that's a great thing, because if I can't connect with the characters, I may not enjoy the book.
...



Still, even when this had those points in its favor, I could like it as much as I wanted. Disney wins for me, for the first time. I will finish this trilogy (series?), yet I think Maas'

Throne of Glass

series is better (so far). Hopefully, my expectations won't be as high as they were for this one.





Now, let's end with this little gif, because I just love this movie so much: